TransAlta recognized for Leading Climate Change Disclosure Practices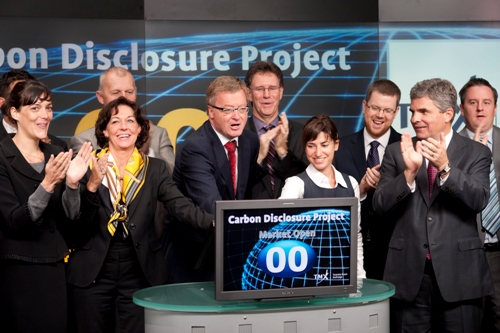 TransAlta President and CEO Steve Snyder rings opening bell at the Toronto Stock Exchange. 
CALGARY, ALBERTA (October 5, 2010) – Today, TransAlta (TSX:TA) (NYSE:TAC) was named as one of the 15 Carbon Disclosure Leaders in Canada by the Carbon Disclosure Project, making this the second time TransAlta is a recipient of this prestigious international award.
"TransAlta is honoured by CDP's recognition of our corporate responsibility and environmental leadership and sustainability efforts," said Steve Snyder, TransAlta President and CEO. "We are committed to helping to reduce the utility industry's environmental footprint by examining and implementing new ways to reduce our greenhouse gas emissions, to green our facilities, and by offering eco-friendly products and services to our customers. TransAlta thanks the CDP for continuing to inspire a variety of industries to lead us to a more sustainable future."
The annual CDP "Carbon Disclosure Project Report 2010: Canada 200" information request asks 4,700 of the largest companies in the world — including the largest 200 firms by market capitalization listed on the Toronto Stock Exchange — to disclose their greenhouse gas emissions and climate change strategies.
TransAlta is recognized for its strong understanding and management of company-specific exposure to climate-related risks and opportunities; for its strategic focus and commitment to understanding the business issues related to climate change, emanating from the top of the organization; its ability to measure and manage the company's carbon footprint; as well as for its regular and relevant disclosure to key corporate stakeholders. The results indicate a strong level of engagement and leadership at the highest corporate levels in the largest companies.
For more information about TransAlta's sustainability programs, go to transalta.com/sustainability. To view the Conference Board's video of Steve Snyder at Market Open, click here.
The Carbon Disclosure Project Report 2010: Canada 200, including names of companies featured in the Carbon Disclosure Leadership Index, can be found at www.cdproject.net.
---
TransAlta is a power generation and wholesale marketing company focused on creating long-term shareholder value. TransAlta maintains a low-to-moderate risk profile by operating a highly contracted portfolio of assets in Canada, the United States and Australia. TransAlta's focus is to efficiently operate our biomass, geothermal, wind, hydro, natural gas and coal facilities in order to provide our customers with a reliable, low-cost source of power. For 100 years, TransAlta has been a responsible operator and a proud contributor to the communities where we work and live. TransAlta is recognized for its leadership on sustainability by the Dow Jones Sustainability North America Index, the FTSE4Good Index and the Jantzi Social Index. TransAlta is Canada's largest investor-owned renewable energy provider.
For more information:
Media Inquiries:
Tanis Fiss
Manager, Corporate and Marketing Communications
Phone: (403) 267-7330
Email: tanis_fiss@transalta.com
Investor Inquiries:
Jess Nieukerk
Director, Investor Relations
Phone: (403) 267-3607
Email: jess_nieukerk@transalta.com