TransAlta receives Evergreen Award from Centralia-Chehalis Chamber of Commerce
Dear community member,
I am pleased to share the news that last week the Centralia-Chehalis Chamber of Commerce recognized TransAlta as its Evergreen Award Winner for 2011. Since 1998, the Chamber has recognized businesses that provide outstanding community support in Lewis County with the annual Evergreen Award. The Chamber graciously honored TransAlta during its annual community banquet last week.
Lewis County and the local communities around Centralia are crucial to TransAlta's success in continuing to produce efficient, affordable and reliable energy. We are grateful for the Chamber's recognition of what our employees have done to serve the community and proud of the countless service hours and $10 million contributed by TransAlta and our employees to local organizations and programs.
We look forward to continuing our partnership with the local community, and we thank the Centralia-Chehalis Chamber of Commerce for this acknowledgement.
Lou Florence
Director, Centralia Operations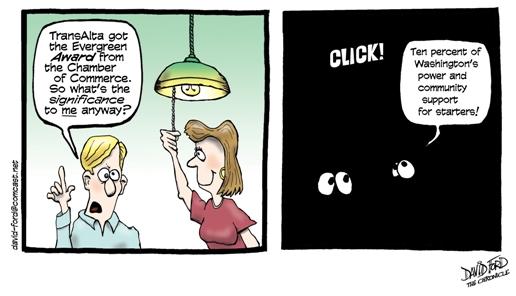 Courtesy of David Ford, The Chronicle (Centralia, Wash.)